---
Bonding
Bonding is a conservative way to repair slightly chipped, discolored, or crooked teeth. During dental bonding, a white filling is placed onto your child's tooth to improve its appearance. The filling "bonds" with the tooth, and because it comes in a variety of tooth-colored shades, it closely matches the appearance of your child's natural teeth.
Tooth bonding can also be used for fillings instead of amalgam. Many patients prefer bonded fillings because the white color is much less noticeable than silver. Bonding fillings can be used on front or back teeth, depending on the location and extent of tooth decay.
Bonding is less expensive than other cosmetic treatments and can usually be completed in one visit to our office. However, bonding can stain and is easier to break than other cosmetic treatments, such as porcelain veneers. If it does break or chip, tell your doctor. The bonding can generally be easily patched or repaired in one visit.
---
Crowns
Stainless Steel Crowns
Stainless steel dental crowns are considered a good temporary restoration to save a primary tooth until the permanent tooth can erupt and take its place. Keeping the primary tooth if at all possible is very important. A primary tooth can be restored with a stainless steel crown during one appointment.
---
Extractions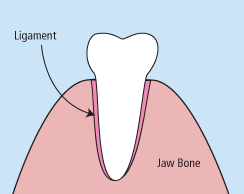 There are times when it is necessary to remove a tooth. Sometimes, a baby tooth has misshapen or long roots that prevent it from falling out as it should, and the tooth must be removed to make way for the permanent tooth to erupt. Other times, a tooth may have so much decay that it puts the surrounding teeth and jaw at risk. Infection, orthodontic correction, or problems with a wisdom tooth can also require removal of a tooth. If it is determined that your child's tooth needs to be removed, your pediatric dentist may extract the tooth during a regular checkup or may schedule another visit for this procedure. The root of each tooth is encased within the jawbone in a "tooth socket," and the tooth is held in that socket by a ligament. In order to extract a tooth, the dentist must expand the socket and separate the tooth from the ligament holding it in place. While this procedure is typically very quick, it is important to share with your dentist any concerns or preferences for sedation; we want to make sure your child is as comfortable as possible.
---
Fillings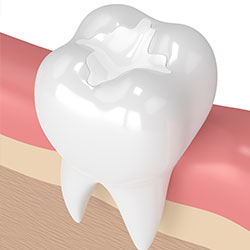 Traditional dental restoratives, or fillings, may include gold, porcelain, or composite. Newer dental fillings include ceramic and plastic compounds that mimic the appearance of natural teeth. These compounds, often called composite resins, are typically used on the front teeth where a natural appearance is important. There are two different kinds of fillings: direct and indirect. Direct fillings are fillings placed directly into a prepared cavity in a single visit. Indirect fillings generally require two or more visits. These fillings include inlays and veneers fabricated with ceramics or composites.
---
Pulpotomy/Pulpectomy
If your child's primary tooth has extensive decay or has been damaged by trauma, action may be needed to restore the integrity of the tooth and prevent infection from spreading to surrounding teeth. After a set of X-rays are taken, your dentist will be able to assess the extent of the infection and recommend one of two options, a pulpotomy or a pulpectomy.
Pulpotomy
If the decay or trauma is confined to the crown of the tooth, a pulpotomy may be recommended. When a cavity gets really deep, close to the pulp of a tooth, or even into the pulp, the pulpal tissue becomes irritated and inflamed. A pulpotomy is when the inflamed pulp chamber, usually on a baby molar, is removed. The dentist will remove all the infected material in the pulp of the crown only, leaving the living tooth root intact. After a pulpotomy on a baby molar, the empty space will be filled with dental cement and a stainless steel crown will be placed to restore the tooth.
Pulpectomy
If the infection involves tissue in both the tooth crown and the tooth root, a pulpectomy may be the best option. In a pulpectomy, the entire pulp material is removed from both the crown and the roots. After numbing your child's tooth, the dentist will remove the pulp and nerve tissue from the crown and from the canals of the roots. Then, the pulp chamber and root canals will be thoroughly cleaned and disinfected. Next, the dentist will fill the tooth and tooth roots with a dental cement, and finish with a stainless steel crown.